Replacing your Wheel Bearings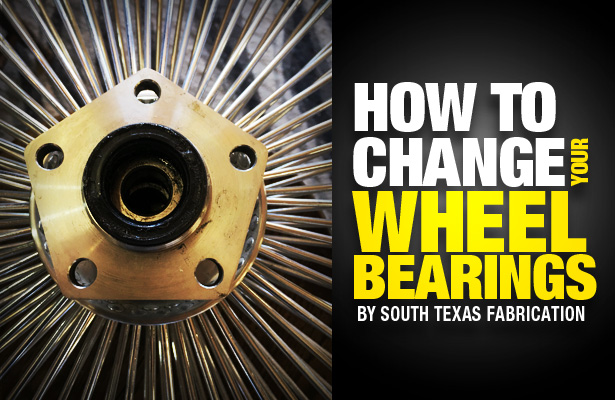 Welcome to Tech Tips with Chris Fantich from South Texas Fabrication.
The other day I was sitting down for a burger and beer at my favorite watering hole and a couple of guys rode up and sat down at the bar. They started talking about how much they disliked the newer bikes and wish they could have ridden up on a Pan Head or a Shovel. I'm old enough to remember the nightmare that was the merger of AMF and Harley. The technology was suspect at times and downright sloppy during the AMF years. That being said I have owned several of both over the years and I have a huge soft spot for them.
Now the reason for today's article. I just picked up a old Pat Kennedy 120 spoke front wheel for my 04 Road King. Here is where the problems start.
Back when these rims were produced the standard wheel bearings were the Conical type and had to be lubed often. Also it was designed for a 3/4 inch axel not the 1 inch that I have. So we have two major problems we have to fix.
Problem one is fairly simple and for the sake of the article we will concentrate on it.
First remove the grease seal exposing the conical bearing. Then simply lift it out, repeat on the other side.
Second clean out as much of the old grease as you can. Now comes the tricky part removing the races. Run your finger on the backside of the race and you will feel a small lip. I use a puller and slide hammer to grip the race and with a couple of pulls it's out. Flip the rim and repeat. A hammer and punch can be used to remove the races but you have to be careful not to damage your rim.
Then it's off to a bearing shop with the race and old bearing to have them match up your old set up with a new sealed bearing.

That being done it's time to install the new bearings. Simply find a socket that fits the ID "inside diameter" of your rim and tap the bearing into the rim so that it seats at the same depth as the race. Don't forget to reinstall the spacing tube as you reassemble the wheel. If your uncomfortable installing the bearings you can take them to someone with a large press.
After everything is in place I put the grease seals back in to help hold the wheel spacers in place during reassembly.
All that is left to do is reinstall the wheel on the bike. Make sure to check wheel spacing when reinstalling. There my be additional wheel spacers depending on the model and year of the bike as well as pulley and brake spacing. I will address these issues in another article.
On a side note I mentioned my second problem. I have a 1 inch axel not the 3/4 inch the new bearings are designed for. FYI in my case there is no replacement that will allow you to simply swap out and reassemble. A trip to the machine shop is in order to cut my one inch axel down to a 3/4. Yes it can be done. Almost any wheel can be adapted to fit on your bike. Sometimes the bearing can be switched and sometimes there is a little machine work involved. Before you give up on something or someone tells you it can't be done feel free to give me a call or come by.
As always if you get into a bind or feel this is a bit out of your comfort level. Just give us a call. Until next time ride safe.