HELP SouthTexasBiker.com GROW and STAY ALIVE.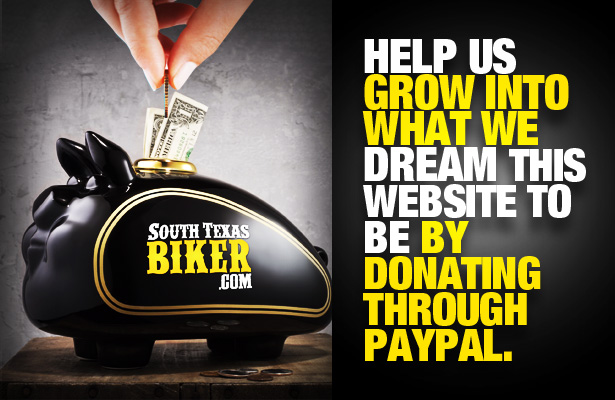 I love being a biker and the brotherhood that follows with it. I have made it my life. I started SouthTexasBiker.com to help educate and entertain the biker community and help the biker community come together. I try to keep the the events page up to date and full to always give us a place to ride to and get together. I also started a page on the biker spotlight with great bars that welcome us bikers, so you don't have to worry about being turned away just because your a biker or wearing a cut.
We are working hard on putting it together so there are still much more to come. If you own or manage a bar and welcome bikers give us a holler. Soon to come, Biker Spotlight tattoo shops, repair shops, insurance agency's and much more. The best business that support the biker community. I have dedicated a large portion of my life to this website. It's a great way to do what I love and share my biker and MC knowledge along with many things we learned along the way. There is a problem though. The website can't survive with out financial help. Though I am thankful to all our sponsors we need your help keeping this site alive. If you enjoy our articles and everything we do for the biker community, help support us.
Help keep SouthTexasBiker.com alive by donating through PayPal. I have placed the PayPal donation button through out the website. Help keep us working hard for the biker community so that we can grow into what we dream this website to be one day. Thank you for your support. If you have a business that would like to join our proud team of sponsors, shoot me an email at Hector@SouthTexasBiker.com, so I can make that happen. Thank you and keep riding safe.