Fix the Fuel Elbow on a Harley CV Carburetor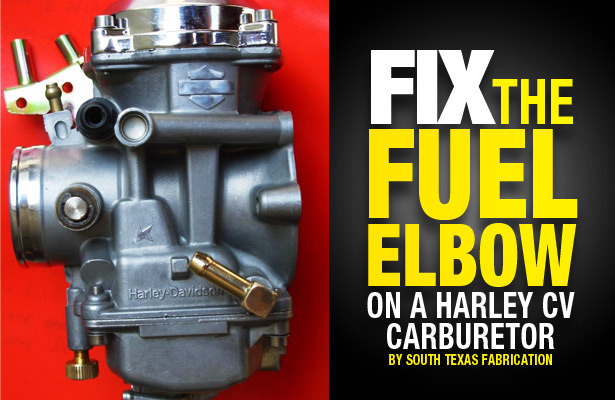 Welcome to Tech Tips by South Texas Fabrication. Today we are going to fix a common problem. The plastic POS fuel elbow on a Harley CV carburetor. If you have ever had one leak you understand how poor of a design this was from the start. If you haven't had a problem with your inlet you eventually will. We are going to replace the elbow with a high flow brass unit. The new unit will flow 40% more fuel.
First things first. The piece is easy to locate and the fix is simple. So lets get started. Remove your air filter assembly and backing plate. Now you should see the fuel line running from the tank to the carb. ( make sure to turn your fuel petcock to the off position )  Remove the fuel line from the carburetor. There will be a small amount of fuel left in the line so have a rag ready. Once the fitting is exposed note the position of the elbow. You will want to install the new piece in the same position. Now take a pair of pliers and snap the elbow. DON'T PANIC!! This sounds a little crazy but it needs to be done. You will be left with a stub of plastic and brass. The tools needed to extract the stub are simple and inexpensive.
1. 7/16 wrench
2. 1/4 ×20 tap
3. 1/4 × 20 bolt 3 inches long a 1/4 ×20 nut and a fender washer.
4. 3/8 × 2 inch piece of pipe. ( lowes )
Insert the tap into the opening and turn clockwise, only going in 1/4 inch. Remove the tap and make sure there is no debris in the hole. You can use a small shop vac to get these out. Now assemble the puller shown in the picture. By threading the bolt in the carb and using the nut to pull the bolt the stub will come right out. That being done your finished with anything tricky. Make sure you have a clean passageway for the new brass elbow to slide into. Apply a small amount of blue loctite to to fitting and gently tap it into position. Remembering to install the new piece into the same position as the old one. Once it snaps into place your done.
Before reassembling the the carb take a minute to examine your fuel line. If there are any wear marks or cracks replace it. Also clean your air filter. If its not a washable type get one from your local shop. RGV Cycles in McAllen can get you set up. Reassemble the carb and attach the fuel line and your ready to ride.
As always if you feel this is a bit over your comfort level or if you have a question. Feel free to contact me at 956-212-3417. Until next time ride safe.
---