Teddy Bears In Leather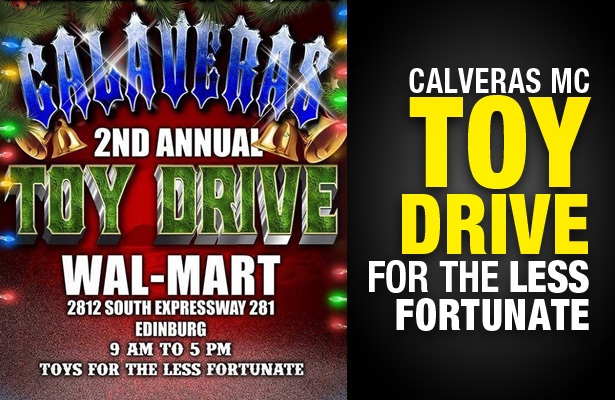 This is an article I stumbled upon, on a charity toy drive local Motorcycle Club Calaveras put together. Now though this is last months news, I could not let it get by with out having them get the proper recognition, by SouthTexasbiker.com.
Elizabeth • FashionablyFearless.com
December 29, 2015
Bikers more often then none get a bad rep but this past weekend the Calaveras Mc (a group of motorcyclist) decided they would give back. The Calaveras held a toy drive so that children who might not have been expecting a christmas miracle could get just that.
Most people would see these men and think they were just a bunch of hoodlums that ride too fast or rev too loud. Todays society likes to judge a little too quickly in my opinion. While you see leather and skulls I see a group of fathers and husbands heading up to the hospital rooms with toys trying to spread christmas cheer.
Sometimes good comes from where you least expect it you just have to be ready and willing to see it. The children laughing and smiling as they received the toys were not concerned about how intimidating these guys looked rather they thanked and hugged them.
I am thankful to have been a part of such a humbling experience and I quickly learned that a few bikers transgressions most certainly does NOT represent all biker spirit. keep this in mind next time you happen to come across a biker enjoying a little wind therapy.
EAT.PRAY.SLEEP.RIDE.REPEAT